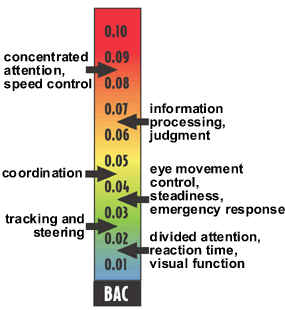 BLOOD ALCOHOL CONTENT (BAC)
BAC Over the Legal Limit?
Experienced Fort Lauderdale Criminal Defense Attorney Aggressively Defends DUI Charges for Clients Throughout Florida
A breath test, blood test, or urine test can be used to determine a person's BAC (blood alcohol content) rating.  Although a person's BAC may be above the legal limit in some jurisdictions, it may be below the legal limit in others. According to law, this criminal offense does not actually require a person to be driving a vehicle; rather the person only has to be in physical control of the car.
Blood Alcohol 
Concentration (BAC)
Typical Effects
Predictable Effects on Driving
.02%

Some loss of judgment
Relaxation
Slight body warmth
Altered mood

Decline in visual functions (rapid tracking of a moving target)
Decline in ability to perform two tasks at the same time (divided attention)

.05%

Exaggerated behavior
May have loss of small-muscle control (e.g., focusing your eyes)
Impaired judgment
Usually good feeling
Lowered alertness
Release of inhibition

Reduced coordination
Reduced ability to track moving objects
Difficulty steering
Reduced response to emergency driving situations

.08%

Muscle coordination becomes poor (e.g., balance, speech, vision, reaction time, and hearing)
Harder to detect danger
Judgment, self-control, reasoning, and memory are impaired

Concentration
Short-term memory loss
Speed control
Reduced information processing capability (e.g., signal detection, visual search)
Impaired perception

.10%

Clear deterioration of reaction time and control
Slurred speech, poor coordination, and slowed thinking

Reduced ability to maintain lane position and brake appropriately

.15%

Far less muscle control than normal
Vomiting may occur (unless this level is reached slowly or a
person has developed a tolerance
for alcohol)
Major loss of balance

Substantial impairment in vehicle control, attention to driving task, and in necessary visual and auditory information processing

                                                                                                                                              provided bynhtsa.gov
Field sobriety tests may be used to determine whether a person is intoxicated to the extent that their normal faculties are impaired.  Although field sobriety tests may be used, BAC is the strongest evidence that law enforcement can use to determine whether a person was driving under the influence.  If a person submits to a breath test and his or her BAC was above the legal limit, or if a person refused to submit to a breath test, then he or she may face penalties such as having their license suspended.
Broward criminal lawyer, Kenneth Padowitz, has successfully challenged driver's license suspensions at DMV hearings as well as criminal charges in courts throughout South Florida. He has been practicing Criminal Law for almost 30 years.  Fort Lauderdale criminal defense attorney Kenneth Padowitz provides effective representation for clients facing DMV administrative hearings, federal and state criminal charges relating to DUI cases, and other serious offenses throughout Broward and all of South Florida, including: Fort Lauderdale, Miami, Palm Beach, Parkland, Weston, and Boca Raton. Contact our law office and ask for Kenneth Padowitz.