Padowitz was visiting his 92-year-old grandmother when her nurse said she recognized him from the television coverage of the Tate trial.
"At first I was flattered," Padowitz said. "Then she said, `Yes, I recognize you from your bald spot.' That's where the camera was focused every day. Suddenly, I wasn't so flattered anymore."
  By DAVID GREEN
 The Miami Herald
November 11, 2001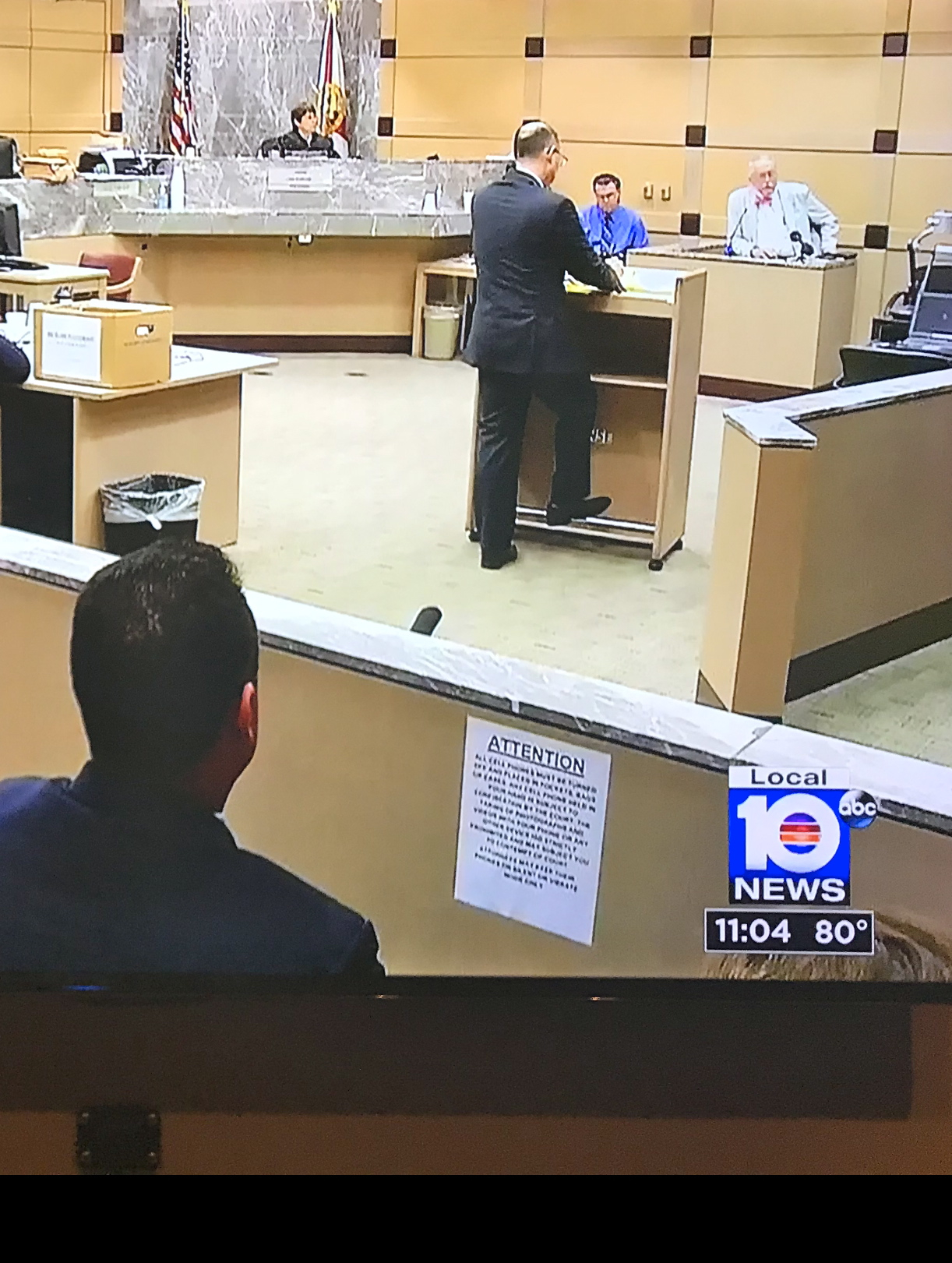 Attorney Ken Padowitz questions Medical Examiner on the witness stand in front of Jury
After the O.J. Simpson traffic trial, life returned to normal for Miami-Dade County prosecutor Abbe Rifkin – poring over files, researching law, crafting legal arguments.
And then she learned Howard Stern was making fun of her hair.
Such is the life of prosecutors assigned to high-profile cases: One day they are underpaid civil servants, toiling in the salt mines of the judicial system; the next they're catapulted onto the nation's stage.
Sometimes the results are comical, like the Miami assistant state attorney who received love letters from a California housewife. Other times, the attention is less charitable – like the Broward County prosecutor who was personally picketed during a murder trial earlier this year.
In every case, the intense publicity makes an already tricky job that much more complex.
With Rifkin, those complications began at lunch Dec. 5, 2000. She was perusing the menu at Monserrate in Miami when State Attorney Katherine Fernández Rundle's office called to tell her O.J. Simpson had been involved in a traffic altercation – and Rifkin would be supervising the investigation.
One year later, the case against the former football great culminated when he was acquitted of felony auto burglary and misdemeanor battery. But along the way, Rifkin found she had been transformed into a mini-celebrity.
People pointed at her in the grocery. They deluged her with letters and e-mails – some supportive, others spewing vitriol. Good Morning America tracked down her unlisted home phone number.
And then there were the comments about her hair.
A veteran prosecutor with 21 years of experience, Rifkin wears fashionable clothes and sports a short hairstyle with severe bangs. By her own description, it's a cross between Liza Minnelli and Mr. Spock – and it became the focal point of the attention she was receiving from the O.J. case.
"I was doing a phone interview with KABC in California, and this guy called in and said, `I disagree with how you handled the case and with the fact that you charged him. Oh, yeah, and by the way, you have weird hair.' "
In the case of former Assistant State Attorney Christopher Calkin, it wasn't his hair on which the media focused.
Calkin was assigned to prosecute Dubravko Rajcevic, the Croatian-born naval architect charged with stalking tennis star Martina Hingis at last year's Ericsson Open tennis tournament.
During the year Rajcevic's case took to wend its way to trial, it attracted moderate media attention – mostly because of the celebrity status of Rajcevic's victim. The European press was particularly enthralled.
And then, months after Rajcevic's April conviction, when the dust should have settled in Calkin's professional life, a revelation triggered a firestorm of scrutiny.
"Love Match," screamed the June 16 headline on The Herald's front page. "Dade prosecutor of Hingis stalker courts star."

UNRELENTING
"Unrelenting questions, unrelenting phone calls," Calkin recalled ruefully. "Every newspaper, from every country you can imagine, was calling me. It was ridiculous."
The most exaggerated reaction came in the halls of the Richard E. Gerstein Justice Building in Miami.
Bailiffs cheered when Calkin walked past. Judges quipped, "So, Mr. Calkin, how's your tennis game?"
One lawyer pantomimed bowing and worshiping every time he caught sight of the beleaguered prosecutor.
Calkin eventually found himself hauled onto the witness stand before Rajcevic and his lawyer, forced to divulge intimate details of his romance with Hingis.
Miami-Dade Circuit Judge Kevin Emas eventually ruled the relationship had no bearing on the case.
A $40,000-a-year state employee at the time, Calkin was trying to roll up his sleeves and get to work on his next case – a double homicide.
But the rest of the world was waking up to headlines such as one in the Swiss tabloid Blick that posed graphic questions about the couple's sex life.
TIP THE SCALES
Legal experts say that level of scrutiny is not just embarrassing – it can tip the balance of a case.
If the prosecutor is not seasoned, experts explain, they can choke under the pressure and make mistakes.
And because the code of ethics prohibits prosecutors from trying cases in the media, pretrial publicity can mean the public hears only the accused's version of events.
"If a jury pool has already been exposed repeatedly to advocating on behalf of the person accused of a crime," said Broward State Attorney Kenneth Padowitz, "that can taint them before they ever hear any evidence."
Padowitz would know. In March, he successfully prosecuted 14-year-old Lionel Tate for the beating death of his 6-year-old playmate – a crime Tate committed when he was 12. The fact that such a young boy was being tried as an adult caused intense international concern. The public didn't hesitate in venting those concerns to Padowitz – in phone calls, in letters, in Publix, at the movies.
The Rev. Al Sharpton and members of the New Black Panther Party even picketed the Broward County Courthouse with signs personally denouncing the 40-year-old prosecutor.
Eight months later, the fallout has abated only a shade. Padowitz was visiting his 92-year-old grandmother when her nurse said she recognized him from the television coverage of the Tate trial.
"At first I was flattered," Padowitz said. "Then she said, `Yes, I recognize you from your bald spot.' That's where the camera was focused every day. Suddenly, I wasn't so flattered anymore."