FOUR DAY JURY TRIAL OF SMALL MAN WHO ALLEGEDLY TRIED TO ROB SIX FOOT SIX, THREE HUNDRED POUND PROFESSIONAL WRESTLER:

NOT

GUILTY!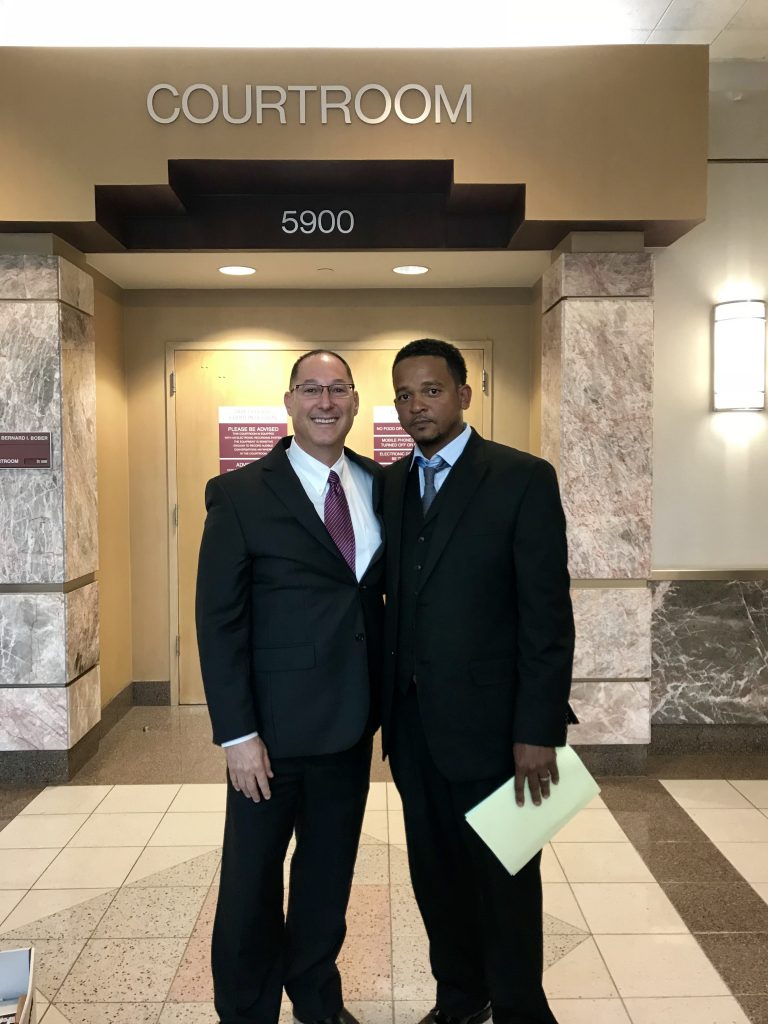 Ken Padowitz and client immediately after verdict of NOT GUILTY from Four Day Jury Trial
March 8, 2018 – Fort Lauderdale, Fl
A man was arrested for Robbery by the Coral Springs Police Department based in part on allegations from Shad Gaspard,  a Professional Wrestler, Fighter and former WWE Champion and team member of "Cryme Time". The 6'6″ approximately 270 pounder nicknamed "Beast" and described in court testimony as a "Monster" for his size, was hailed as a hero of sorts in the National Media. Gaspard, a former bodyguard and actor in movies such as "Think Like a Man Too" and "Get Hard", was in Coral Springs from New York and just finished "fighting" in front of a live audience.
Fresh off his fight, Gaspard stopped at a Valero convenience store for what the clerk testified was a beer. Gaspard claimed in the 911 call a gun was pointed at him and in sworn police testimony, within the hour, that a gun was "pulled" and the small perpetrator verbally and physically tried to get back his BB gun. The problem was those "facts" never happened in the video of the incident presented by the Prosecutor at trial.
When the 5′ 8″ 140 pound client and his wife walked into Criminal Defense Trial Lawyer Ken Padowitz's office at 5:00 pm on a Friday evening over a year ago, his life hung in the balance. He was facing Life in Prison and deportation away from his wife and three children. If that wasn't enough, he had no money to hire a lawyer.
Attorney Padowitz learned that the alleged "victim" Gaspard was making the rounds on the T.V. media circuit such as TMZ and Inside Addition. TMZ  headlined the story with:
EX-WWE STAR SHAD GASPARD 
Crushes Armed Robber …
IDIOT PULLED A BB GUN ON ME!
TMZ also wrote that Pro Wrestling Sheet reported Gaspard's "heroics".  Gaspard told TMZ in an on camera interview casting himself as the hero: "first thing I thought was, I didn't want him to hurt nobody else…"
The problem for Ken Padowitz as he sat there with his prospective broke client, was that the video on TMZ appeared to show his client was Actually Innocent based on his story. Padowitz took the case Pro Bono, the State filed the charge as an Aggravated Assault with a Deadly Weapon, and for the next year he prepared for trial. The pressure was now on with prison, deportation and possible broken family in the balance.
During the four day trial, Padowitz wrestled with the hostile "Beast" and repeatedly impeached his testimony by showing an inconsistent prior statement over twenty times. The 17 camera original store video footage was never collected by the police. The police used a phone to make a bad copy of the store video and took only five camera angles which directly contradicted Gaspard's testimony.
After a few hours of deliberation, the Jury returned with their verdict: NOT GUILTY!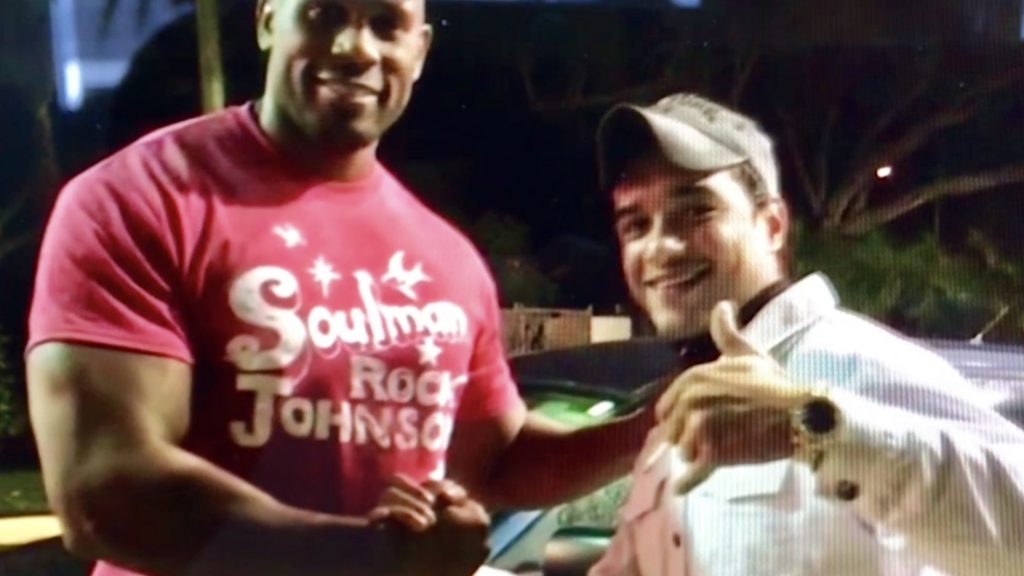 Picture of the "Beast" and Clerk soon after alleged horrifying "Robbery" which Gaspard requested for his National Media.
Wonder if Gaspard, after three hours of teeth pulling deposition and four days of bone crushing trial is still smiling? Maybe the "Beast" found himself in the wrong ring with his worst nightmare?
It's tough being a hero.
Note: Ken Padowitz previously trashed in Court former World Heavyweight Boxing champion Shannon Briggs with a Two Million Dollar verdict in 2005. CLICK HERE to read article.