Leading Volpe to the gun may have been stupid, Padowitz told Lebow. But "retrieving the gun, loading it and cocking back the hammer — we're beyond stupid. We've entered the Twilight Zone."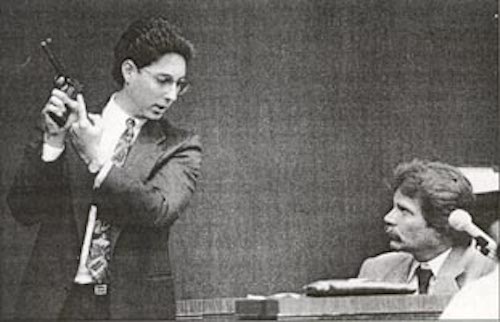 Ken Padowitz in Trial during Cross Examination
JOSEPH WILLIAMS Herald Staff Writer
PUBLICATION: Miami Herald, The (FL)

SECTION: BRWD N
DATE: August 11, 1992

EDITION: BRWRD
Page: 4BR
A Broward prosecutor said Jeramy Ricky Rushing went past stupidity and into "the Twilight Zone" by giving a loaded gun to a drunk, suicidal woman, but a judge agreed he should serve two years' house arrest instead of seven years in prison.
Circuit Judge Susan Lebow imposed punishment against Rushing after a hearing Monday. The sentence, recommended by prosecutor Kenneth Padowitz, also requires Rushing to perform 300 hours of community service and undergo one year of probation.
Last month, a jury convicted Rushing of manslaughter by culpable negligence for providing Joanne Volpe with the means to take her own life six years ago.
Volpe and Rushing met at a Dania bar early Feb. 10, 1986, police said. When Volpe talked about suicide, Rushing led her to his car, gave her a gun and watched in horror as she pulled the trigger.
Under state sentencing guidelines, Rushing faced up to seven years in prison, but Padowitz said house arrest "was the right thing to do."
Leading Volpe to the gun may have been stupid, Padowitz told Lebow. But "retrieving the gun, loading it and cocking back the hammer — we're beyond stupid. We've entered the Twilight Zone."
Defense attorney Martin Schwartz said Rushing never has been in trouble with the law, is a good husband and father and is remorseful for his role in Volpe's death.
"I don't think there's any question that this was a totally unique, totally bizarre and tragic set of circumstances," Schwartz said. "She chose death. She actually performed the act. He played a role."