CRIMINAL DEFENSE TRIAL LAWYER KEN PADOWITZ GETS JURY VERDICT: NOT GUILTY
"JUSTICE WAS SERVED BY SIX PERSON BROWARD JURY AFTER FOUR DAYS OF TRIAL WHEN MY INNOCENT CLIENT WAS SENT HOME TONIGHT TO HIS FAMILY. FIVE ALIBI WITNESSES HE WAS IN TALLAHASSEE, NOT PLANTATION, AND FORTY-FIVE REASONABLE DOUBTS SAYS IT ALL"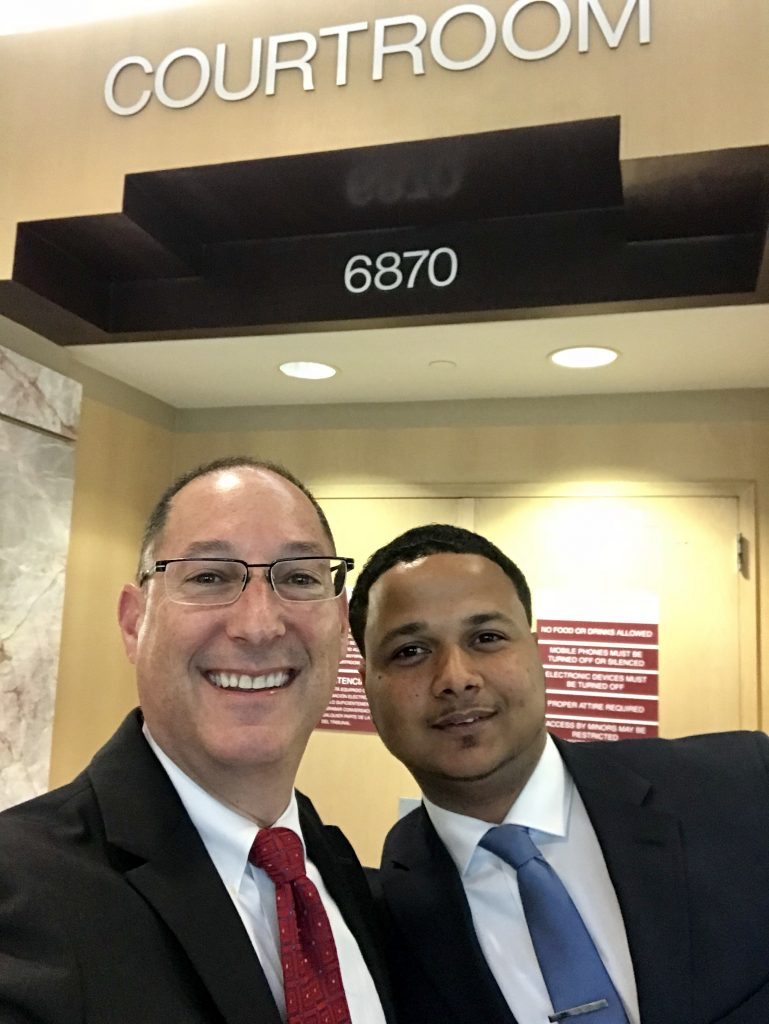 Criminal Defense Attorney Ken Padowitz and client all smiles minutes after Not Guilty verdict!
March 23rd, 2018
A law school graduate was stabbed in the arm, blood spurting out from an arterial wound. As the blood dripped on the pavement of the Plantation Apartment complex, someone was going to pay.
With no Police Sworn Statement from the three-joint pot smoking "victim" for almost a month according to testimony, never prior meeting his attacker in person, no photo line-up, no live line-up, and no real police investigation other then a Probable Cause Affidavit with the wrong address, the Government was ready to charge a citizen with a Second Degree Felony of Aggravated Battery punishable by Fifteen years in Florida State Prison under the legal standard of "Likelihood of Conviction." But wait…there's more.
Five albi witnesses come forward and state under oath that the charged Defendant was near Tallahassee Florida at the time of the stabbing. Charges still not dropped. But wait…there's more.
A Pawn Receipt on the day in question from Tallahassee with the date, time and Defendant's name. Two witnesses, a Law School graduate and a Registered Nurse in a Nurse Anesthetist advanced degree program give sworn testimony the Defendant was not at crime scene in Plantation on night in question contradicting "victim." Charges still not dropped. But wait…there's more.
Law School graduate "victim" gives a deposition stating "I don't remember" approximately 45 times about night in question. Admits to possessing pot but can't remember if he smoked that day. Never admitted to the pot in prior Police statement. Testifies he can see Defendant at door from couch in apartment that has two flights of stairs before you reach living room where couch is located.  This "lawyer" states he had no idea he could sue Defendant for damages or what he would sue for.  However he admits to researching him on the internet. Charges still not dropped. But wait…there's more.
Charges hang over this highly successful client, an inventor, software engineer and operator of a Telecommunication company for almost three years.
It was time for a Jury Trial. So the Government came into court and Attorney Ken Padowitz found out minutes before the Jury Panel was to be brought up, that new charges were filed at 4:00 p.m. the day before. This time, the charge was a First Degree Felony punishable by 3o years in Florida State Prison. Of course, the new charges were again filed with the legal Standard of "Likelihood of Conviction."
It took two prosecutors. Four day Jury Trial. A life, a family, a company built from scratch in the balance.
Not Guilty.
… with Liberty and Justice for all.