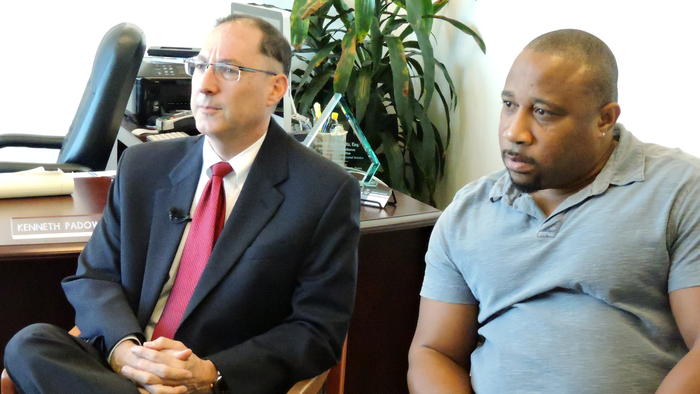 Defense lawyer Ken Padowitz, left, and his client, Dean Dinnard, talk to reporters Tuesday. (Rafael Olmeda)
"His life was literally on the line. Now he just wants to put his life back together." – Attorney Ken Padowitz
Rafael Olmeda  –  Contact Reporter
Sun Sentinel
March 8th, 2016
The news reached Dean Dinnard on Tuesday morning as he was on his way to meet with the pre-trial services officer assigned to monitor him while he was out on bond in a sexual assault case.
Broward prosecutors announced that charges against Dinnard, 47, would not be filed.
"I still don't know where it all came from," said Dinnard, who lost his job at a furniture rental business days after he was arrested in late January on suspicion of sexual abuse against a pre-teen girl who had accused him of making her watch sexually explicit movies on television and on his phone.
Dinnard was jailed without bond for three weeks before asking a judge to release him while he awaited trial. Broward Circuit Judge Michael Usan set bond at $20,000 on Feb. 18 and ordered Dinnard to wear an ankle monitor.
According to a police report, his accuser claimed that Dinnard had also molested another girl they both knew. That girl, now 17, signed an affidavit calling the accusation a lie.
Because of the nature of the charges, the Sun Sentinel is not identifying either girl.
By Tuesday morning, the Broward State Attorney's Office had decided not to file charges. A memorandum outlining prosecutors' reasons was not available Tuesday.
"He was facing life in prison, with a minimum mandatory of 25 years," said his lawyer, Ken Padowitz. "His life was literally on the line. Now he just wants to put his life back together."
Dinnard, a U.S. citizen who has lived in Broward County since 1993, said his employers released him two days after his Jan. 29 arrest. "I just want to move forward with my life," he said.