"Another brilliant move by the Florida legislature"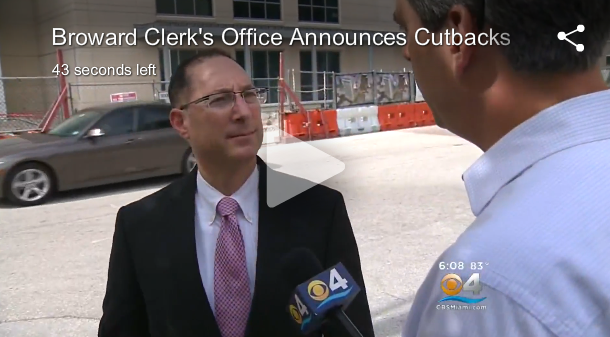 BROWARD (CBS Miami) – Starting Monday, if you have to pay a traffic ticket, file a lawsuit or just check on court records you can expect to wait longer and have fewer hours in the day to accomplish your work.
Broward Clerk of Courts Howard Forman said it's because of the upshot of major budget cuts to the Clerk of Courts Office.
"It's gonna hurt," said Forman. 
Forman said the state legislators cut the budget for the clerk's office from 40 million dollars to 38 million dollars this year.
That means 16 employees are getting laid off, each of the nearly 900 employees will lose one day of pay during a furlough and the hours the clerk's offices are open to the public are being cut back. That means the clerks will close up shop at 3:30 each afternoon. "There will be shorter hours," Forman said. "As far as the level of service, it will be slightly less."
However, the most difficult thing for Forman was handing out pink slips. "You have to look people in the eye and tell them, 'I'm sorry,'" he said. "'We're gonna have to terminate you.'" Forman said clerk's offices across the state are dealing with similar cutbacks. And even though many tasks have shifted online, he said there is still a large amount of paperwork to handle and many in the public who rely on the clerk's office for needed services.
Ken Padowitz is a criminal defense attorney and a former prosecutor in Broward County. He said the public should be outraged.
"I think what the public will take away is, 'Another brilliant move by the Florida legislature,'" he said. "Something as simple as getting a marriage license may take longer. There may be a longer wait – any type of court proceeding where someone has a small claims or landlord tenant dispute. All these things are going to be affected."
Forman said that the fight for more funding is not over. He said the Legislative Budget Committee will hold hearings in September and that clerk's offices statewide will lobby hard to get additional money. Forman said if they do not get more money they may have to make additional cuts.